HEALTH AND WELLING BEING
To assist with our great efforts with raising much-needed funds for mental health support we are continuing to provide our virtual event option. The virtual event has invited the rest of Australia (and the world) to join us on this date to help raise awareness and funds for Mental Health in Australia.
If feeling unwell please do not attend the event.
Use hand sanitizer provided and bring your own. Wash your hands regularly at handwashing stations
We will have reusable water bottles provided by sponsors so please take one and refill when necessary.
If you become unwell at the event seek medical care immediately
DOWNLOAD EVENT INFO
Want to help promote Walk For Awareness.
Download the Poster and Postcard designs here and share them around your local area.
DOWNLOAD PRINTABLE POSTERDOWNLOAD DIGITAL POSTER
PRICING
Adult (over 14 years)
$40.00 pp
Child (under 14 years) with T-Shirt purchase
$20.00 pp
Child (under 14 years) without T-Shirt purchase
FREE
The first 2000 entries will receive a Walk for Awareness T-shirt. If you register after that you'll receive some funky W4A shoelaces to wear. We can't wait to see you all decked out!
DATE
Sunday 8th October, 2023
LOCATION
KEY TIMES
7am: Event Village opens & Kit and T-Shirt collection opens at the Registration Desk on entry.
8am: Official event formalities / live entertainment
8.30: Walk for Awareness to set off
12pm: Walk for Awareness officially ends
PARKING
More detail will be available closer to the event.
PUBLIC TRANSPORT
We recommended that participants catch public transport to Captain Burke Park. Plan ahead by using the Translink journey planner https://translink.com.au/
There will be limited parking available around the surrounding street of the event venue, with no parking available onsite at Captain Burke Park, Kangaroo Point, with Holman Street closed for the duration of the event. We encourage you to plan ahead. If parking in the surrounding area please ensure that you are aware and following all parking rules.
MERCH COLLECTION
At the time of registration pick-up, you will collect your t-shirt in the morning from 7am to sport around town.
WHO CAN COME?
Everyone, any fitness level - wheelchair, pram & pet friendly! Kids on scooter also welcome.
WHAT TO BRING?
Ensure you pack a hat, sunglasses and sunscreen to stay sun smart across the event day. Remember to reapply your sunscreen. Also bring along your water bottle, and comfortable shoes.
Food & coffee stalls will be available.
PETS
Pets are welcome however there will are a lot of dogs down on the day. If you feel your buddy might be little intimidated or scared with the volume of people and dogs, perhaps consider a dog muzzle or protective bite mask for protection of your dog and others.
CHILDREN
Children are welcome to come down.
For children under 14, they're registration is free.
STAY SOCIAL, CONNECT AND LIVESTREAM
Stay social across the event and connect with:
#mafwalk
#walkforawareness
#QMHW
@mentalawarenessfoundation
We would love to see photos and videos of you and your team doing the Walk for Awareness in your local area, all for mental health and awareness.
Every time you post on social media - please tag #MAfwalk and we'll share to the official event social pages. If you would like to send videos or photos through to show on the official event livestream, please send via WhatsApp to the Mental Awareness.
HEALTH AND SAFETY
Police and first-aid will be onsite, in and around Captain Burke Park, Kangaroo Point, and on-course across all key event times.
ENTERTAINMENT
LOTS of activities, raffles, media, music, food and fun to be had on the day!
VOLUNTEERS
Click here to become a Volunteer
Please come down at 6am on the day for Volunteer briefing.
WHO WE SUPPORT
Check out who we support here to see where the funds raised go.
BECOME A SPONSOR
Click here to check out how you can become a sponsor and partner with us.
BECOME A STALL HOLDER
Click here to contact us and express your interest in being a Stall Holder.
CONTACT US
Have a query or would like to share your story? Please send us a message on info@mentalawareness.org.au
REGISTRATION
Register for the Brisbane event here
There are 2 options to register - Walk in Brisbane or Walk Anywhere.
If you have a team - Search for your team name. Or you can create a new team.
BULK REGISTRATION
For Bulk Registrations, please click below:
https://www.walkforawareness.org.au/cms/corporate-coupon-purchasing
HOW DO I ACCESS MY REGISTRATION?
Each registrant will have thier own fundraising page and registration receipt. Check your inbox for confirmation of your fundraising page. If you need to change any registration details please contact info@mentalawareness.org.au
HOW DO I UPDATE MY DETAILS?
You can update your address, email, t-shirt size, and other details by logging into your account on the Walk For Awareness website, navigating to your details, and updating your account there.
DONATIONS
If you would like to make a one-time donation to MAF, you can do so here.
If you made an incorrect donation and want to allocate your donation to a specific person or team, please email contact the MAF team and let us know who you want to allocate your donation to.
FUNDRAISING
Each registrant will have their own unique Fundraising page created for them to use and promote their fundraising efforts.
If you haven't set yours up, you can do so by visiting Walk For Awareness and logging into your page.
EVENT FAQ'S
Joining a Team
Search for your team that you want to join and click on the "Join this Team" button on the team page to join a team!
Creating a Team
You will first need to register yourself and during the registration process, you will have the option to create your team.
Swapping between Physical and Virtual Events
Contact us directly if you wish to swap between the Physical and Virtual event options
Contact us if you need assistance with your Registration.
T-Shirts & Registering after 2nd October
If you register for the Physical Event, you can collect your shirt on the day.
If you register for the Virtual Event, you will receive your shirt after the event in the post if you have provided an address.
EVENT VILLAGE
Enjoy the beautiful Captain Burke Park, grab a coffee and a bite to eat, and check out the stalls held by our partners.
EVENT DAY TRAVEL
Public Transport
We recommend participants catch public transport and please ensure you plan ahead with Translink Journey Planner.
Parking
There will be limited parking at the venue for participants. It is recommended that participants catch public transport into the venue. Parking will be available at Eagle Street for a flat rate of $5 and you will be able to jump on a City Cat over to the Thornton St Ferry Terminal. Parking will need to be booked online before entering the parking lot.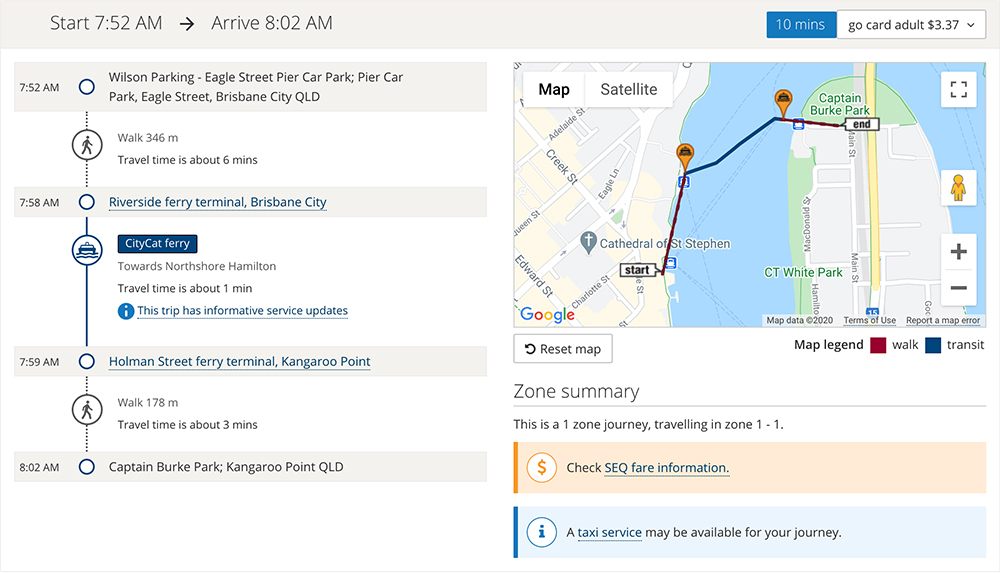 WATER STATIONS
There will be two water stations on the course.
TOILETS
Toilets will be located at the venue along with public toilets on the course at Riverlife, Botanical Gardens, City Reach Boardwalk, and Howard Smith Wharves. At the venue, we will provide handwashing stations and sanitization stations, and we ask that you please use them regularly. We will also have alcoholic wipes available at the entry to the portable toilets which we encourage everyone to take one to use to open the toilet door and clean before each use (extra measures to keep yourself safe).
We will have regular cleaners available to clean these high traffic areas.
Please ensure you practice proper hand hygiene at the facilities throughout the course. There will be handwashing stations and hand sanitizer located at stalls, toilets, and the water station.
COURSE SAFETY
We want the event to be fun and safe for everybody. Please ensure you follow the below safety procedures:
Bikes and scooters are not permitted on the course
Listen for announcements and follow directions from event officials
Only go to the start line when directed by officials
Please keep LEFT at all times unless passing
Please be mindful of bike riders and the public on the paths
If dogs are brought to the event, please ensure that they are always leashed and you keep a close eye on them
First aid will be located along the course and at the Venue
AT THE FINISH
When you have finished, we encourage you to take a selfie at one of our many selfie stations, visit the support groups within the parklands, grab a coffee, and sausage sizzle.
STAY SOCIAL WITH MAF AND CONNECT
Mental Awareness Foundation Facebook
DONATIONS
Do not forget to keep fundraising for the event. All proceeds will go towards the work on the frontline of Mental Health Issues and Suicide Prevention.
Fundraising does not stop until the end of October 2023 and we encourage you to share your own or your team's Fundraising page.